Australia's #1 Custom USB Drives & Promotional USBs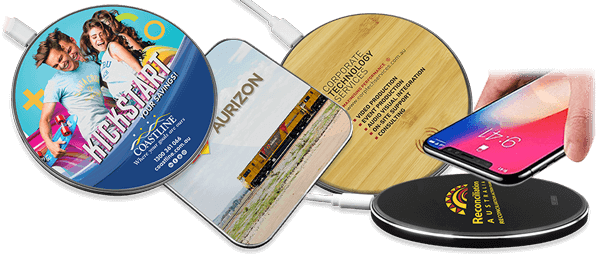 Wireless Chargers
Browse our range of promotional wireless chargers, all available custom branded with your logo in 1-4 colour print or full colour transfer.
Browse Now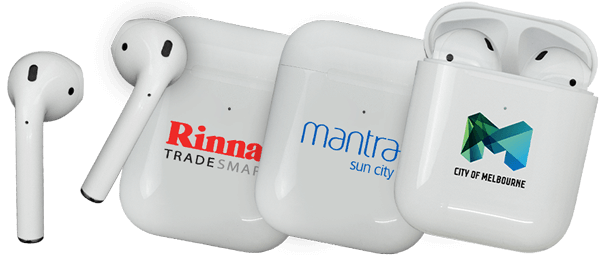 True Wireless Earbuds
Need a great gift for staff or clients? Try our true wireless earbuds and charging case combination available fully branded with your message.
Browse Now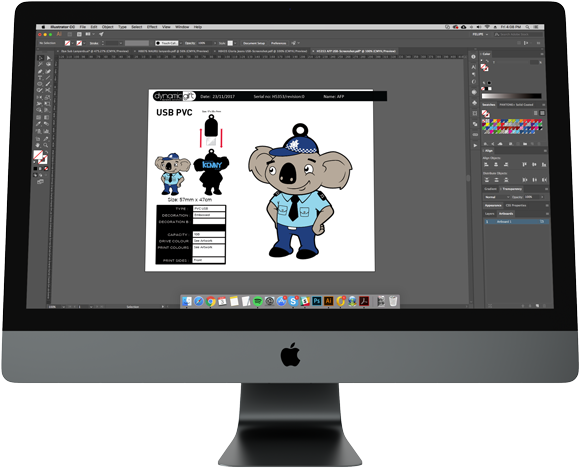 Let us design your USBs 100% free of charge
Our in house design team are on standby to design and preview your promotional flash drives, something as small as a USB flash drive can still have a huge marketing impact if designed correctly, and this is where our design team can help you to get the most from your order. No longer do you need to worry about your order arriving printed correctly, we send you a full, pre-production preview of your order prior to spending a single cent with us.
That's right our artwork service is 100% free, with no obligation to proceed with an order. There really isn't anything we don't handle on your behalf from design to production and delivery. Flashdrive.com.au will get you the right product, delivered on time at extremely low prices!
Custom Flash Drives
USB Benifits
Business
History
Selection
Customised USB Drives are Perfect for Any Occasion
Potential customers expect more today. They don't want promo products they're just going to toss in a drawer and never use. They want something useful; something that's going to be helpful to them and that they might use frequently. The more frequently they use it, the more they might see your branding and the more likely they'll be to contact you in the future.
Today, you might want to choose a Promotional USB for your promo product for just about any event. They're small enough to be easy for the person to carry around, incredibly useful for anyone, and they're the perfect way to get your brand noticed. We offer Custom Flash Drives at Wholesale prices for businesses in Australia. We can help you completely customise the perfect USB for your business right away.
Benefits of USB Drives as a Promo Gift
Business owners today can use Custom printed USB drives as giveaways to their customers because they're incredibly cost-effective. The flash drives are inexpensive yet are going to be used by customers for years. The more the customer uses it, the more they'll see the business's branding and the more familiar they'll become with the branding.
The USB drives are intended to be highly portable, which means customers will often carry them wherever they go so they can use them whenever they need to transfer data. The custom USB drives meet the needs of the customer and are made from only high-quality materials to last as long as possible. In fact, promo USB drives include a 10-year Warranty, guaranteeing the customers will get as much use from them as possible.
Businesses That Benefit from USB Drives for Promos
Many different types of businesses can benefit from USB drives as promo gifts. Schools may want to purchase customised flash drives to provide to students. Students can use them when they need to bring home their work, when they need to print work they did at home or to share school-related files with classmates when they're working together on a project.
Photographers might use USB drives to provide the photographs they took for their clients. This enables clients to share photos on social media, print extra copies, or simply keep a copy of the photos as safe as possible.
Computer technicians may want Promotional Flash Drives to give to customers after working on their computer as a way to say thanks and to encourage the customer to call them again if they need more help. They can also put programs or files the customer might need on the flash drive or use it to save the customer's data when repairing a computer and give to the customer for a back-up.
Just about any business can benefit from a Custom USB they can give to their customers. Customers appreciate receiving something they can use frequently and may end up bringing the USB with them wherever they go so they can use it as much as possible.
History of the USB Drive
In the 1990's, computer data that needed to be shared would need to be placed on a floppy disk. Maxing out at 1.44 megabytes, most information needed to be split onto many floppy disks to be shared. Even small games, for instance, might be placed on 10 or more floppy disks so they could be sold in stores. Customers would need to use all 10 floppy disks to load the game they purchased. This, obviously, wasn't very convenient and as file sizes grew larger, the limitations were easy to see.
The first Memory sticks sold in the US were in 2001. Made by IBM, they could hold 16MB. The amount of data they could contain rapidly grew, with a 1TB flash drive now being sold. As the file size grew, the cost for a flash drive dropped significantly, with the smaller 2 to 16GB flash drives today being incredibly affordable.
Nowadays, business owners can order Custom USB drives in the shape, style, colour and more that they prefer. Everything can be customised to meet the business's needs and to make sure the business's customers are happy with the promo gift they receive. Flash drives are now universally accepted by computers, making them a good option for any customer.
Choosing the Right USB Drive
When you need to choose the right USB drive for your business, check out the Memory sticks on our website. We offer a variety of Promotional USB drives made with premium-grade memory chips. All of our USBs come with a ten-year warranty and we can help you choose the right one for your needs today. We offer business cards with a built-in flash drive, bespoke USB drives, and more to ensure you can choose the right base USB and then completely customise it to meet your needs.
Customising a USB Drive
Once you've chosen the base design, it's time to start thinking about how you'll want the USB drive to look. We offer Custom printed options to ensure the USB meets your needs exactly. You'll be able to choose from a number of different Branded options to ensure your branding is promoted with the USB, make sure it will meet the needs of your customers, and choose everything from the design to the background colours.
Our Custom Flash Drives are the perfect option no matter what you need because there are so many options you can consider to make them exactly what you need. Choose from laser engraving, custom printing, photographic printing using a transfer, photographic printing with an epoxy dome sticker, and other options to create a product your customers are going to be pleased to use.
If you need something to give away to customers at an event or just because, make sure you check out our Promotional Flash Drives now. Your customers are sure to love receiving a USB drive they can use as much as they might want. We offer many different options to businesses in Australia along with affordable Wholesale prices to make this the perfect option for any business. Contact us today to get help designing the perfect USB drive for your business or to learn more about all of your options.